We urge you not to give up your dream!
There is a way to transform your expertise and passion in ways that will make a difference in people's lives.
A land of milk and honey where you finally have the impact and enjoy the income you know you are capable of.
It is possible, even if you feel right now like Jericho's walls stand before you!
Regardless of what others say, or the obstacles that stand in your way:
You can write and publish a book.
You can create and sell an online course.
You can develop your online platform and share your words and worth with the world.
Your unique value needs to be shared, and there are ways to do that that you can learn and apply. When you do, it will liberate you to escape the status quo and BE the change you want to see!
With God on your side, whatever objections, excuses, worries or resistance stands in your way, the walls will come tumbling down.
All it takes is the courage to take your first step.
---
But what if you don't step out?
What if you don't find creative ways to reach the audience you are called to help and bless?
The body of creative work you are called to leave as a legacy for generations to come will remain unrealized.
The possibility and potential profits arising from sharing your passion will never be enjoyed.
Your expertise will go no further, and the men and women you are equipped to disciple will continue to struggle.
You will continue to wrestle with the frustration of having God-ordained gifts, ideas, stories and products that never see the light of day.
---
How tragic that the words you have in your heart remain unwritten, never reaching their readers.
What a shame that the online course you are called to teach remains nothing more than a hopeful idea.
One of the saddest things I see day after day is talented Christians with so much value already inside them who either simply don't know how to transform their talent, or who think what they have to share is not valuable enough to even try!
They refuse to prioritize their creativity, thinking they have nothing worthy to share (that's a BIG lie!).
They fail to build a legacy body of work, robbing the world of something no one else on earth can bring.
They don't realize there are easy ways to begin stepping into their creative calling, so never step out and start the journey to reach people with the wonderful things God has planted within them.
They don't experience the satisfaction that acting in line with their unique assignment can bring them.
They continue to struggle financially, never tasting the abundance that God's word promises to His people.
And most frustrating of all?
Let me encourage you. A shift is taking place, and many believers are waking up to the fact that God's Kingdom stretches far beyond the walls of a church building.
The children of God should be the most vibrant, colourful and creative company of radicals on the planet!
We are called to impact every area of society with God's wisdom and our worth.
I love how the Scriptures speak about how David,
…served his own generation by the will of God,"

Acts 13:36 KJV
It is now our generation!
And you are called to serve your generation by sharing your uniqueness with the world. There are so many ways you can do this that were not available to any previous group of people.
Right now, action-taking Christians just like you are:
? Self-publishing in easy and profitable ways, whilst staying in control of all their intellectual property and ideas and enjoying top dollar royalties without the headaches and legal red tape.
? Fearlessly turning their expertise into life-changing Online Courses so the world can benefit from their message and expertise, and making great money as they serve and help others.
? Creating simple Digital products that are incredibly valuable to their customers, packaged in ways that are seamless and virtually free to deliver.
? Building God-honoring Entrepreneurial online businesses, freeing them from the stress of always chasing dollars and feeling like their time is swallowed up with unfulfilling thankless tasks.
…and most importantly of all, making a difference in millions of lives!
---
All of this is possible for you.
I know, because I am doing all of those things myself, and I was the most unlikely entrepreneur you could ever imagine.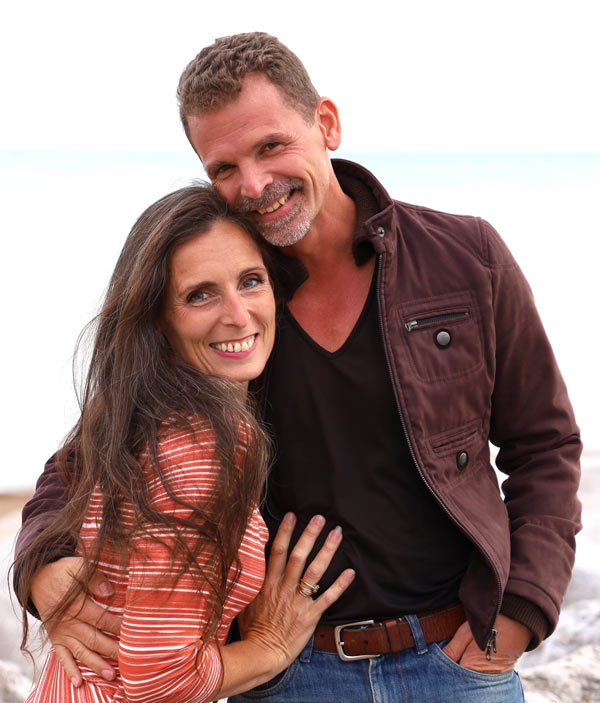 My name is David Lee Martin, and my wife, Larna, and I, spent over 20 years as church planters, pastors and missionaries. Online business was the last thing on our radar.
It was through what I thought was my greatest failure that I was forced to press into God to discover His grace for creative business.
After 20 years on the field, circumstances forced us into a position where we had no income, no job, no church and no idea what to do next!
It was the most uncomfortable place to be.
Filled with a sense of failure and fear for how I would support my family I turned my ear to God for His direction
6 years later we own a creative online business that generates five-figure royalties and income every month, doing the things we love. Last year (2019-2020) our creative products earned us $213,635 in royalties and direct sales!
And let me assure you, this was not because we are more talented or gifted than others. It is not because we are special favorites of the Father (I believe all of His children have His favor).
We worked, prayed, and learned hard, applying the proverb attributed to Ignatius, "pray as if everything depends on God, work as if everything depends on you."
But it was not just our diligence that led here, and certainly not our genius.
---
One thing above all else prompted our turnaround
God's promise…
Remember the LORD your God: for it is He that gives you the power to create wealth, that he may confirm his covenant that he swore unto yours fathers, as it is this day."

Deuteronomy 8:18
---
This promise is just as much for you as it is for us!
---
With this truth burning in your heart, three faith-fuelled possibilities open up:
1. You can realize your value – embrace and discover your wealth of knowledge, experience and imagination.
2. You can learn how to crystallize that value into something others can consume – share your wealth with the world!
3. You can monetize your expertise, positively impacting other lives, extending God's Kingdom and building an authentic creative business at the same time.
---
We believe that the best way to do this is through:
Publications – words that change the world!
Products – digital gold designed to help other people prosper and experience real change.
Platforms – websites, blogs, and other online platforms that consistently deliver great content and build an audience who will become your greatest fans, friends and customers.
As you exercise your creativity in powerful ways that align with your values, you'll be amazed at the doors that will open to you.
The only thing that stands between you and your better, more fulfilling future are the actions and habits that you build today.
That's why Larna and I decided to open the Christian Creative Academy.
---
We want to help you recognize the awesome value you have to share with the world.
To give you reliable roadmaps and advice to crystallize that value into income-generating digital products, books and publications, and websites and blogs that bring your own unique wonder to the world.
And to show you the many ways you can monetize your magnificence so you actually get paid for all your hard work!
Any entrepreneurial Christian can begin to make an impact online through the CCA training because you'll learn how to get your message to the marketplace in ethical ways that align with your faith.
---
Do we practice what we preach?
Sure we do, we sell self-published books through Amazon, make steady income from our courses, and we are always building our online presence in ways that are helping or bringing joy to others.
Everything from a full-fledged online Bible school to Christian fiction, or courses for authors and dancers to journals and prayer books. We give a lot, sell a lot, and we are looking to help others do the same.
Here are some of the results we have seen over the past few years. These are genuine screenshots from various places we are sharing our books, products, and expertise online.





---
I am not going to pretend that we can guarantee similar results, but I can confidently say that the principles we have applied are transferrable. The promises that we are standing on are the same for all of God's children.
Our passionate interest is in working with creative, Jesus loving Christian believers who want to make a difference. Men and women who are ready to sow their hearts into bringing value and worth to the world.
---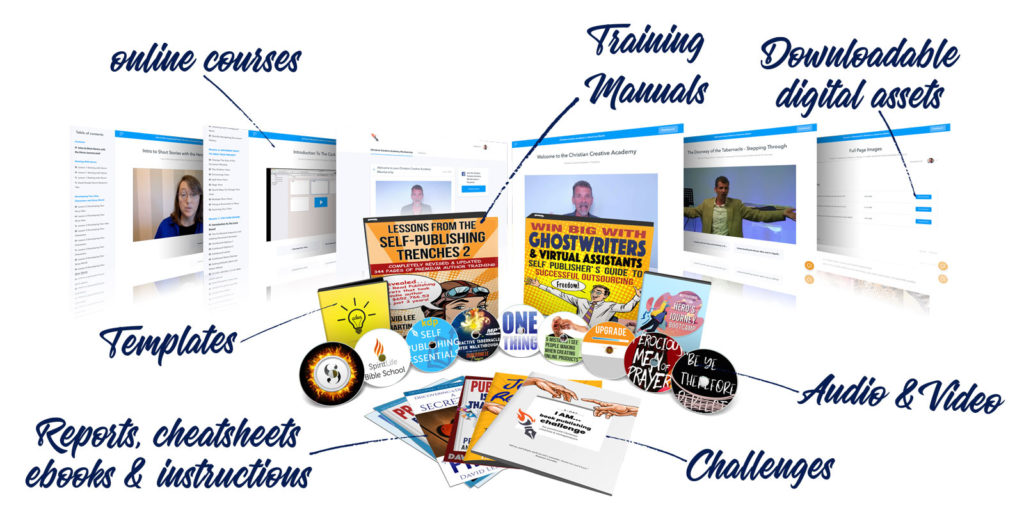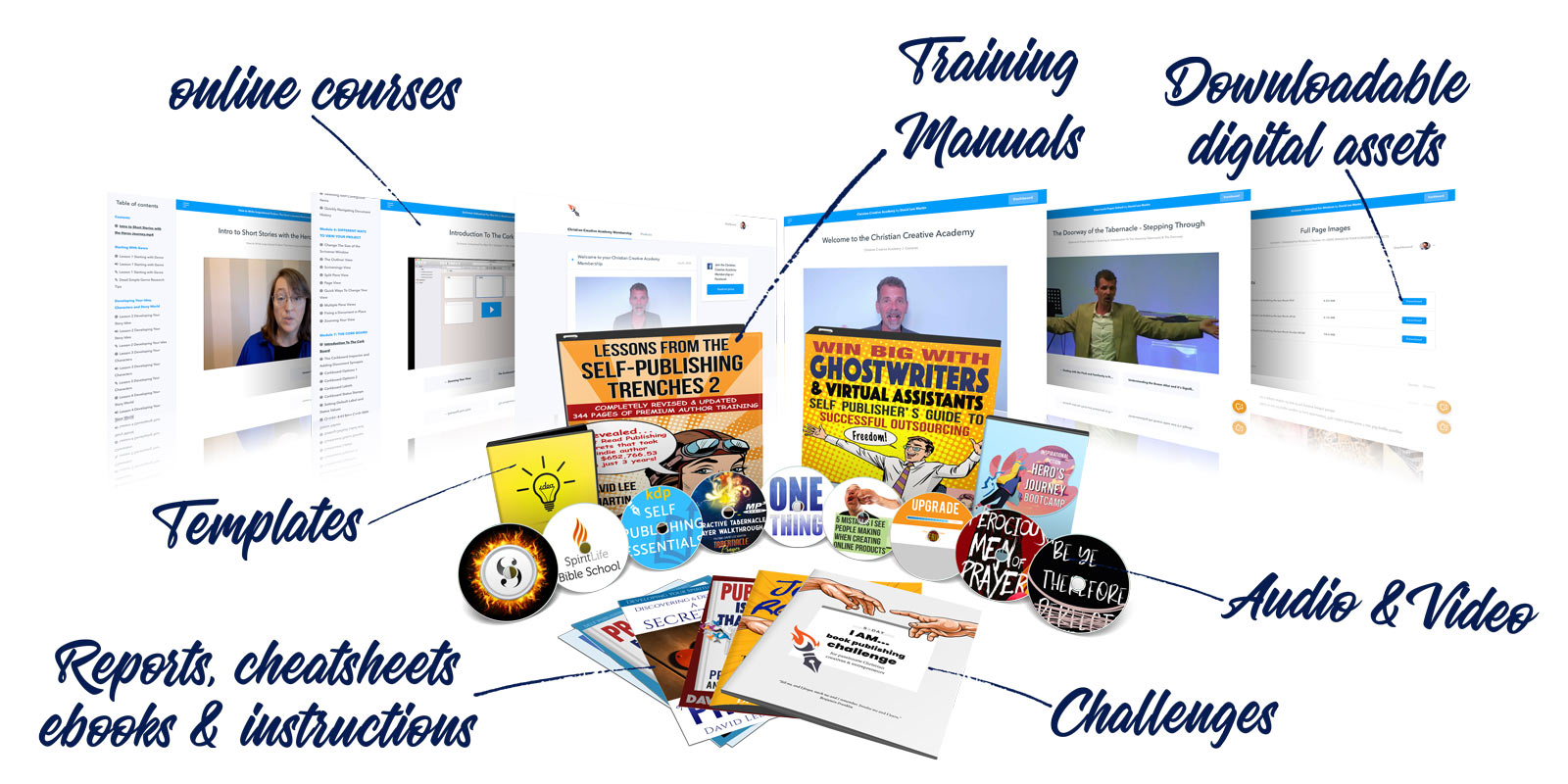 With the Academy Training Library at Your Fingertips You'll Be Able To…
Write and Self Publish Your Books
Get your message to the world or share your stories. Influence, entertain, and impact more people, enjoying royalties and income from your expertise.
Create Awesome Information and Training Products and Resources
Learn to deliver world-class online courses in your areas of expertise and interest, and know satisfaction and fulfillment as you equip other people to experience and enjoy all that you have to share with them.
Engage with be encouraged by other creative Christians who have chosen to embrace their creative call
Pursuing your individual call to create is exciting, but can be lonely and full of questions. Having a lively community to engage with makes a huge difference. The Academy emphasizes the personal fellowship you will have privileged access to just as much as the practical equipping.
Ask any questions you may have and enjoy faith-based training and discussion in our weekly webinars and Zoom calls
Unlike many other digital courses (even very expensive ones), you will also have regular opportunities to connect personally and directly, solve problems, seek guidance, and get unstuck during our weekly group coaching calls and in the Academy member's only Facebook group.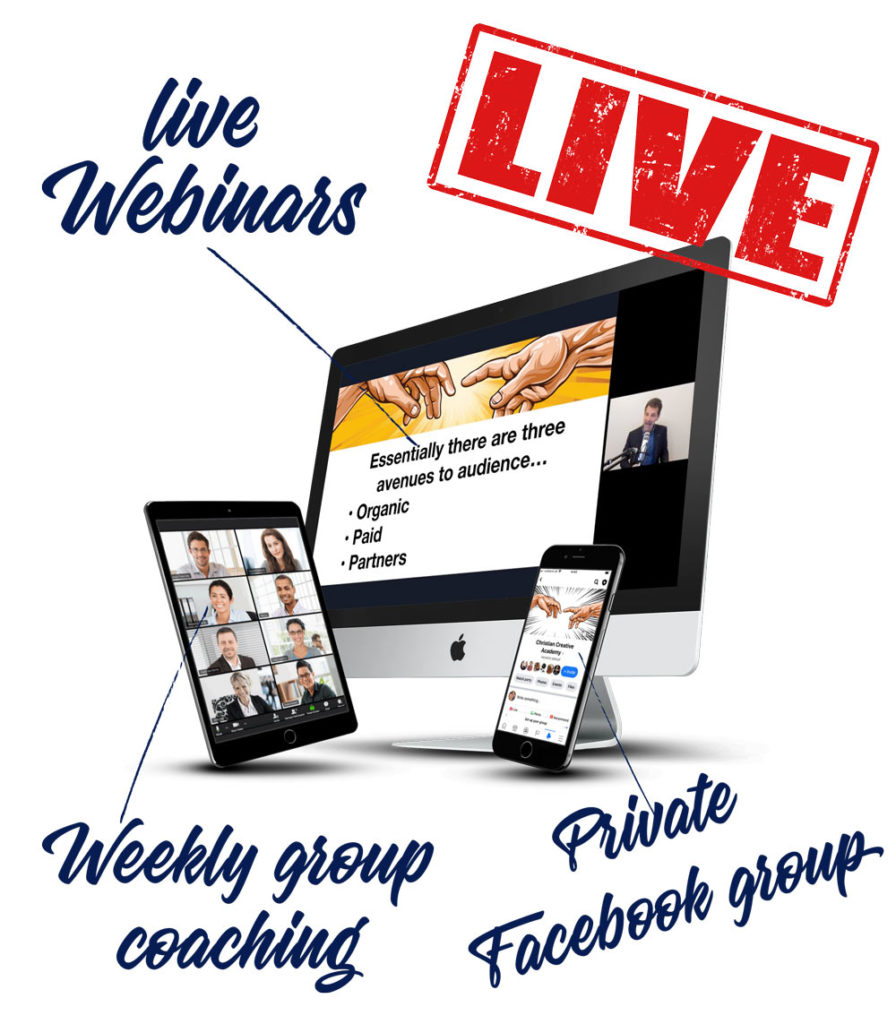 Practically – we will show you step-by-step how to implement proven processes to fulfil your creative vision and build your online platform.
Spiritually – the Academy will encourage you to hear God in your creative business and entrepreneurial endeavors.
Personally – we'll support you in your creative ideas and implementation as part of a supportive community of fellow Christian creatives.
---
Here's what some current member's say about the Academy
---
Ready to take your next step?
We are not just selling a product or course here. We want to know we can really help you so we offer a full 30 day money back guarantee.
That way, you get a feel for who we are and where we are coming from.
This is a creative Christian community committed to taking bold steps to make their worth and value available to the world through publications, products, and online platforms.
It will be a real privilege to meet and help you in whatever way we can.
I look forward to seeing you inside…