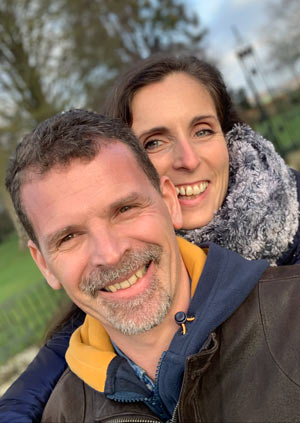 We are David and Larna Martin.
After 25 years planting and pastoring churches, we are now harnessing the same life-building skills we used to disciple and raise strong Christ-honoring believers, to equip and release faithful men and women into fresh creative pastures and ethical online businesses.
When you step inside the Christian Creative Academy you'll be excited to dive into a comprehensive library of easy-to-follow online courses, step-by-step training manuals, and weekly group coaching sessions where your questions will be answered.
Because of this you will finally be able to action your ideas in ways that transform them from mere unrealized hopes into actual books, courses and products that others can grow, enjoy and benefit from.
Too many Christians (with amazing things that absolutely should be shared with the world) are caught in the headlights of perfectionism, doubt, or simply stuck not knowing what steps to take next. We were both one of them!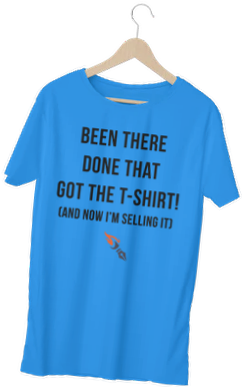 The conflict of faith and finance, the drive to produce but not knowing where to begin, or how to turn your ideas into real money-making products or publications.
The feeling that others are more talented, 'lucky' or 'blessed' than you are.
We get that!
We have been there, done it, and got the T-shirt a thousand times over!
You don't need to experience the same struggles and conflicts that we did. As you exercise your creativity in powerful ways that align with your values, you'll be amazed at the doors that will open to you.
We believe that Christians should thrive, not just survive!
As we have made this journey, we found very little training that specifically ministered in the creative realm to entrepreneurial and artistic Christians. There were times we felt very alone, trying to figure all of this out for ourselves. It was overwhelming.
We don't want you to continue going through that same pain, knowing inside you have something significant to give, but not knowing how to actually bring it to fruition.
It is possible to crystallize your value into online products, platforms, and publications, and to make great money doing and teaching the things we are passionate about. And if it's stories you like to tell, clean and wholesome fiction is a huge and constantly growing market.
---
Your Mission & Your Message
As Christians, we also know that everything is not about money. The same online skills that cause businesses to thrive, also open incredible opportunities for your mission and message to reach a worldwide audience.
It doesn't matter how many times you have tried and failed before, the renewed confidence you will feel when you have a supportive community of like-minded brothers and sisters, and tried-and-tested expert guidance to propel you toward your next steps, will completely transform your outlook.
Walking alongside someone else who has been there before you, made all the same mistakes, but uncovered real-world solutions is literally life-changing.
---
Last year (2019-2020) our creative products earned us $ 213,635 in royalties and direct sales!
And I can say in all sincerity that this incredible entrepreneurial journey began with one simple truth…
Remember the LORD your God: for it is He that gives you the power to create wealth, that he may confirm his covenant that he swore unto yours fathers, as it is this day."

Deuteronomy 8:18

---
This promise is for
YOU

!

Believe it – because when you do, three faith-fueled possibilities open up:

1. You can realize your value – embrace and discover your wealth of knowledge, experience and imagination.

2. You can learn how to crystallize that value into something others can consume – share your wealth with the world!

3. You can positively impact other lives, extending God's Kingdom and building an authentic creative business at the same time.
A creative ministry and mission like yours is not confined behind the walls of a church building or measured merely by money.
The world tries to tell you how success should be measured, but your greatest wins will be the lives you change because you had courage to face your fears and embrace this amazing opportunity.
Such things are priceless!
And it all begins by creating valuable content that benefits other people.
? This might be through writing books.
?It might be by birthing and growing a vibrant life-affirming blog.
?It could be through social media or video.
?Training courses and teaching resources that you develop and distribute.
?It may be powerful products and useful tools you create.
Regardless of the medium you use to share your message, there is an audience ready to be reached, and they are waiting for you.
This is what the Christian Creative Academy is all about! YOUR CONTENT REACHING OTHER PEOPLE!
We provide a reliable roadmap for your online success, and it begins when you transform your value into powerful products, publications, and platforms, using our proven pathways and methods.
The great thing is, it is not difficult to get started. You will be surprised how much you already know, and how rapidly you can make progress once you set your mind to it.
In the past few years we and those we work with have…
Published thousands of books in numerous genres.
Created hundreds of online resources teaching everything from video creation and prophetic dance, to fiction writing and Facebook ads. Even a complete online Bible school.
Provided online training courses that have been enjoyed by over 100,000 people, and generated millions in revenue.
Delivered numerous online and offline creative workshops for authors, dancers and artists.
We'll let some of our numbers speak for themselves…
These are our personal results, and as you can appreciate, similar results cannot be guaranteed, but they do open up a clear picture of what's possible when you step out, offer God your skills and expertise, and give Him something to work with.
And we are not alone in seeing stunning turnarounds.
One fiction self-publisher recently crossed the million-dollar mark in Amazon royalties from short romance stories she sells!
Another artist netted $200,000 in profit from one campaign selling digital paint brushes for use on an iPad!
Another coaching client who had been stuck for years followed our advice and within two weeks had his newsletter up and running. The following month he was asked if he wanted to partner in a collaboration with a dream connection he could never have imagined possible!
What possibilities will you open up for you?



To be clear, although we can celebrate today, it was not always this way. Sometimes it's easy to look at results like this and feel that it won't work for you.
We totally relate to that fear and frustration, and feel compelled to do all we can to encourage, build, and equip our creative brothers and sisters in their own unique artistic and creative callings, and online business ventures.
---
That is why Larna and I opened the doors of the Christian Creative Academy. We want believers to thrive as they make a difference in people's lives.
---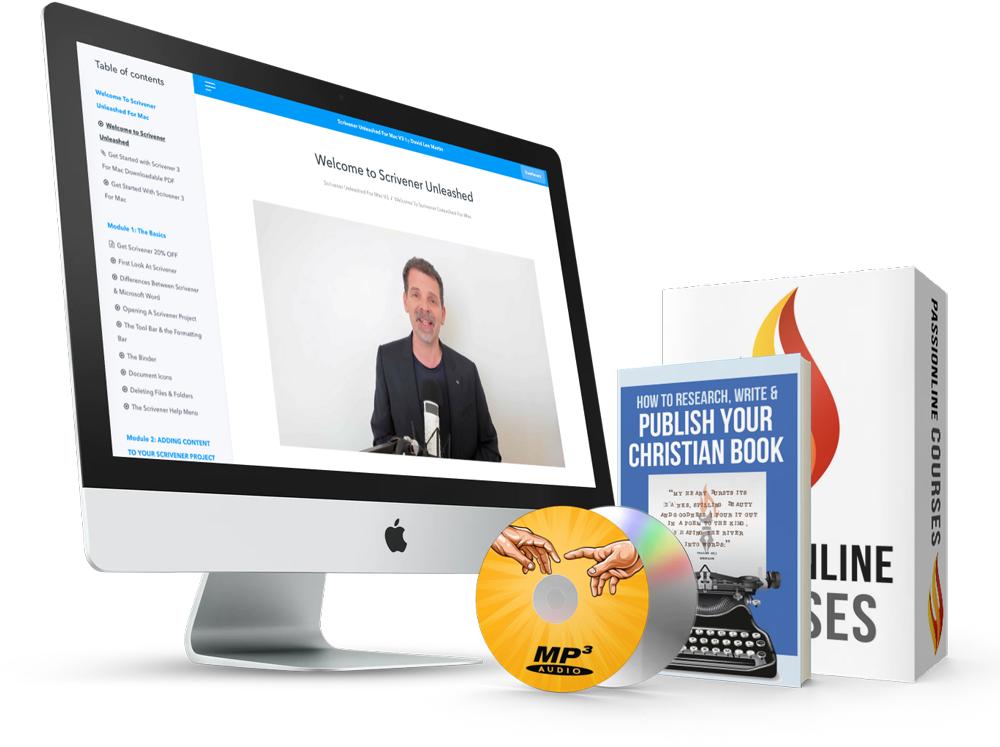 Our ready-to-use resources, online support, and live-training will show you how to create powerful fiction and non-fiction publications, online products, and life-changing courses to get your message and skills out where they belong.
You Will Learn To:
Write and self-publish your fiction and non-fiction books

, so you can share your words with a global audience with no money down.

Create and sell online courses

, so you can equip, encourage, and teach others 24/7 and earn as your students learn (even when you are sleeping!).

Build email lists

, so you can continue to expand and influence your audience and bring them back to your valuable products and publications again and again.

Run webinars

, so you can cement your positioning as an expert, ethically introduce and sell your products, and attract influential partners.

Create websites and blogs

so you own online properties to promote and share content and encourage a flood of searching web visitors.

Create and sell easy-to-produce digital products

that your audience and affiliates will love to buy and promote.

Sell Print-on-demand merchandise

to further establish your brand, or just as fun-to-do a side business.

Build a profitable online business based around your values and personality

, so you leave a legacy of creative work, and an inheritance for your children for generations to come.
Whether it's a book you want to write and publish, a course you want to create, webinars you want run, blogs or websites you dream of building – we are here to get you started, keep you moving and motivated, and make it happen!
At Your Fingertips Training…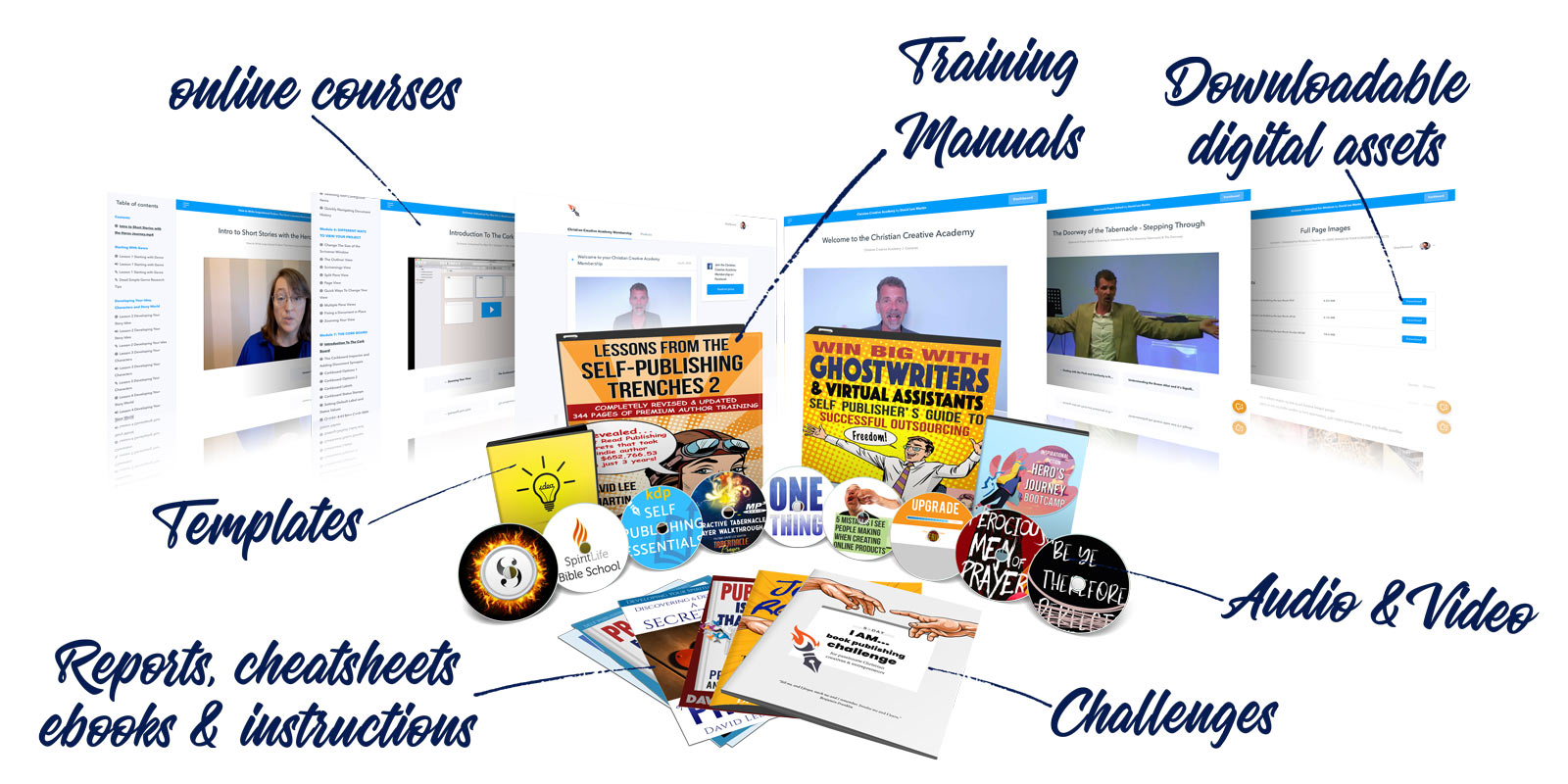 ---
*Plus* live interactive coaching…
Fear not! You will not be left alone to navigate the digital landscape. Academy membership also includes live interactive webinars, group coaching, and a Private Facebook community. Ask questions, get feedback, encourage one another, solve problems, and share your wins.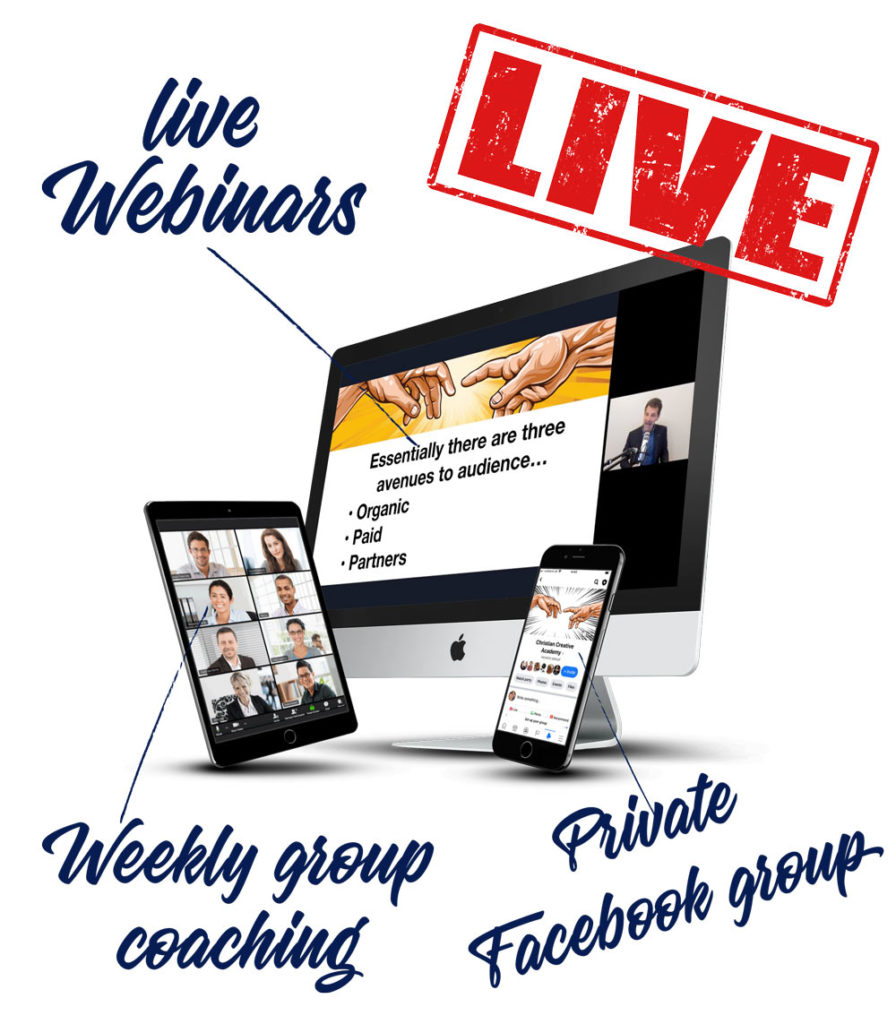 More resources are being added all the time, and members have full unrestricted access. Learn what you want, when you want, how you want. It is like having a complete digital reference library and online university at your fingertips.

You'll never experience the frustrations of not knowing how to proceed as you develop your technical and creative skills.
With the Academy Training Library at Your Finger tips You'll Be Able To…
Write and Self Publish Your Books
Get your message to the world and share your clean and wholesome stories.
Influence, entertain, and impact more people and enjoy royalties from your expertise.
Create Awesome Information and Training Products and Resources
Help other people reach their goals and be equipped for success.
You'll know the satisfaction and fulfillment of equipping other people to experience and enjoy all that you have to share with them.
Learn to Deliver World-class Online Courses in Your Areas of Expertise And Interest
Reach your target audience with exactly what they need to know and learn in a fun and professional way.
You'll be richly rewarded as you divulge the rich treasures of your skill, experience and knowledge.
Unlike many other digital courses (even very expensive ones), you will also have regular opportunities to connect personally and directly, solve problems, seek guidance, and get unstuck during our weekly group coaching calls and in the Academy member's only Facebook group.
You'll never feel alone and always have a tribe who are cheering you on!
---
Spiritually, the Academy will encourage you to hear God in your creative business and entrepreneurial endeavors.
Practically, we will show you step-by-step how to implement proven processes to fulfil your creative vision and build your online platform.
Personally, we'll support you in your creative ideas and implementation as part of a supportive community of fellow Christian creatives.
Whether you are a newbie or an old hand, there is something here that will take your influence and income to the next level!
But there is something far more awesome than all that you will get inside the membership area…
The real value of the Christian Creative Academy is not the massive bundle of courses and resources you will have access to (worth over $2000) – it will be the amazing products, publications and platforms that YOU produce as a result of your membership!
---
Included in your membership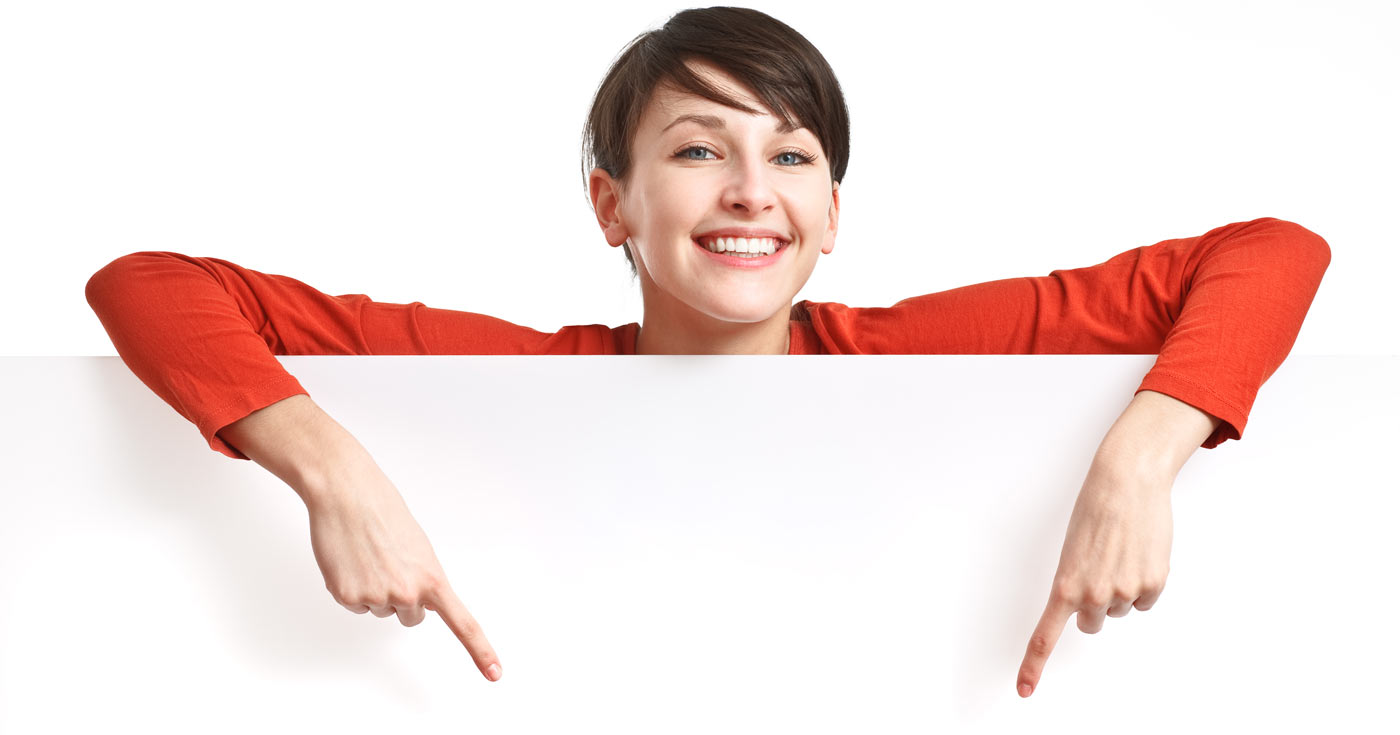 As an academy student you will have exclusive access to:
A full suite of courses for online success – basic to advanced.
We are developing new cutting-edge courses all the time, and you will be the first to access them all.
Fun & Fellowship in our private Facebook group

– Interact with and be encouraged by other students and coaches in the Academy. Share your struggles, celebrate your wins, and ask questions. No question is too dumb to ask!

Weekly online group coaching & recordings with creative mentors – up-to-date encouragement and training.

Every live session will also be recorded and added to the member's area, so you'll never miss a thing.

Priority attendance in guest webinars and trainings, where we bring experts in to share their knowledge with the tribe.
Access to our unique creative challenges – powerful pathways such as '5 Days to Published' and 'Blog in 10'. These unique creative experiences offer a learn-by-doing model. Instead of watching a video or course about a particular creative goal, you actually DO IT!
Hands-on help and feedback for your own creative projects inside the Facebook group and in our interactive hot seats.
---
Ready to get started?
You now have two choices
You can choose the hard way and continue trying to figure everything out for yourself, without expert guidance and without a supportive faith-filled community to spur you on, confused by all of the options and wondering every day what your next step should be
OR
You can make a quality decision to invest in your future, and the prosperity of your family, and start building a powerful legacy of creative words and works for future generations to enjoy, guided by God to crush your fears and take a step of faith that will change countless lives.
What will it be?
If you continue doing what you have always done nothing will change. Dreams and desires will remain unrealized and your frustrations will only increase as you go from month-to-month and year-to-year never giving priority to the God-planted seeds of creativity that ache within you.
Transformation begins with a decision to recognize your worth and prioritize the dreams that Jesus has placed within your heart.
Today could be the day you change your life and embrace the possibility of a radically different future.
Grab this opportunity and get access to our Christ-centered creative community, the full course library, challenges, and creative group coaching.
Can you not invest less than $1.91 a day (☕️ less than a latte!) in your own education and progress?
Will you prioritize your potential and open up new and exciting possibilities?
Is your creativity and calling worth more than a mocha?
We passionately believe that your creative call and your message needs to be heard!
---

JOIN TODAY AND MAKE THE CHANGE!
MONTHLY MEMBERSHIP
QUICK START MEMBERSHIP PLAN
Start today for just $99 and get full unrestricted access to all the Academy has to offer.
Your access to the Academy resources, live training and community will continue for as long as you choose to continue as a valued member.
You can cancel anytime and there is no fixed-term – jump inside for as long as you like!
From your first second as a member you will enjoy IMMEDIATE ACCESS TO…
All courses, resources, templates, downloads, and challenges.
Weekly Group Coaching.
Expert Live Weekly Webinars.
PRIVATE Facebook Group.

30 Day Money Back Guarantee
ANNUAL MEMBERSHIP
ACTION-TAKER PLAN (SAVE $489)
Save $489! For a limited time we are offering annual membership for just $699/yr
Your access to the Academy resources, live training and community will continue year on year for as long as you remain a member.
For a tiny investment if just $1.91 a day you get a full year of access to everything the Academy has to offer!
From your first second as a member you will enjoy IMMEDIATE ACCESS TO…
All courses, resources, templates, downloads, and challenges.

Weekly Group Coaching.

Expert Live Webinars.

PRIVATE Facebook Group.

30 Day Money Back Guarantee
30 DAY MONEY BACK GUARANTEE
Try the Christian Creative Academy – 100% RISK FREE!
We are confident that you will love to Academy once you are inside, and there is no reason not to make the jump. We offer a full NO RISK 30 days money-back guarantee.
If for whatever reason the Academy is not for you, we will part on good terms, with a full refund, plus you can keep anything you have downloaded (even if it's hundreds of dollars worth) as our way of saying thank you for giving the Academy a try.
---
---
---
---
Frequently Asked Questions
Is the Academy only for Christians?

Quite frankly, yes. Jesus is at the heart of all we do. If you don't believe that Jesus is Lord of all, and the Source of your creative life, there are definitely other programs that would be better suited to you. The training will be as much about prayer and it is about production.

The Academy is non-denominational, and open to you whatever your church background. We are not affiliated with any particular church movement or ministry, but we are fully committed to Jesus, to hearing the Holy Spirit as He leads us, and to serving God's Kingdom through our ministry and businesses.

The principles of production and online business, content creation and other aspects of platform building, publications and products are universal, but at heart this is a radically Jesus centered community and program.
What if I have no ideas, products, blogs or books, no platform, and limited technical skills? Is the Academy still open to me?

Of course. For many people their biggest hurdle is even knowing where to begin. The Academy does not presume anything other than that you will come with an open mind and heart ready to learn and implement. Our blueprints begin with the very basics, right through to advanced teachings and aspects of building a creative business and platform online.
What if my products and publications are not Christian or spiritual?

Kingdom creativity touches every area of society and humanity. We believe that God-given wisdom is not confined to the church walls, and long to see powerful creative giftings impacting the marketplace, not just operating behind church walls.

To be clear, not all of our creative projects are explicitly 'Christian'. We create from passion and also ethically create for profit. Among our many 'experiments' we have a range of cookbooks, a few ventures into apps and software, numerous courses on a broad range of subjects, and a very profitable Christan fiction self- publishing business.

The Academy is just as much about impacting the marketplace as it is about religious products and publications. It is our firm belief that God's will for His artists and entrepreneurs is for them to thrive, not just survive!
How does the Membership work?

Once you are inside you will have instant access to all of the courses and resources currently included, plus any that are added for the duration of your subscription. These are accessible 24/7 through your membership dashboard.

As a member you will also be given the opportunity to attend and interact in our weekly webinars and in the private Academy Facebook group where you can ask any questions, cheer on your fellow students, and interact with coaches.
How much time do I need to invest?

You will be able to learn at your own pace, and no pressure will be placed on you to push beyond what is possible for you. We understand that life is busy and demanding, and provide an environment that will encourage you to keep moving forward steadily toward your creative goals.

Depending on what you want to accomplish will largely determine how much time you will need to invest to get there.

The great thing is, as a student on the Academy your learning curve and pace of implementation will be greatly reduced because you will have clear instruction how to proceed. Instead of wasting hours and weeks trawling the internet for answers you will have an instant reference in our library of resources, and direct access to get the help and direction you need from the group.

Whether it is 5 minutes a day, or 5 hours, you will experience rapid progress as you apply what you learn.
Does the membership include personal coaching?

Presently we do not offer personal coaching within the Academy because we wanted to lower the barrier to entry and keep the price within reach for as many people as possible.

There are numerous opportunities to connect directly with the coaches and other students through the online group calls and webinars, and inside the private Facebook group.

Your questions will not go unanswered, and opportunities will be given to dive into your specific creative projects together within the group so we can all learn and grow together.

Personal coaching may be offered in the future for a supplementary cost.
Will the Academy teach me XYZ?

The Academy primarily teaches Christian creatives to transform their ideas and skills into online products and publications, and how to build, maintain and monetize their online platforms. If you have specific questions about your particular need or use-case please feel free to contact us at getintouch@indieauthor.com before you purchase.
---
---
---

Become An Academy Member Today
Because your message needs to be heard and your value deserves to be shared!