It is an exciting time to be a creator. Previously it was very complicated and expensive to make a living online through your wisdom and expertise. Now, it is easier and cheaper than ever.
There are still a lot of working parts, however, and for many, the mountain still seems enormous.
Enter Podia. Podia has solved several problems for me that previously required using several different services (all with associated expenses).
Get A Completely Free Podia account and win a copy of my $299 Create A Course Roadmap
SIGN UP FOR YOUR FREE

(No Strings Attached, No Time Limit on your Free Account, No Credit Card Required)

PODIA ACCOUNT HERE:

Win my $299 Create A Course Roadmap

Between 17th June 2022 and 23rd June 2022 if you grab a free Podia account (use this link https://christiancreative.academy/go/podia or the button above) and send me an email letting me know to getintouch [@] indieauthor.com with your name and email your name will be placed in a hat and one blessed individual will win a copy of my Create A Course Roadmap (usually sells for $299).
Why Podia Rocks!
The course platform marketplace is a crowded market right now. The alternatives mostly share similar features. Prices and breadth of functionality vary from platform to platform but the final choice will often come down to preference.
As I mentioned, my platform of choice and the one I now use for all of my digital products, courses, and for my flagship Christian Creative Academy program and community, is Podia.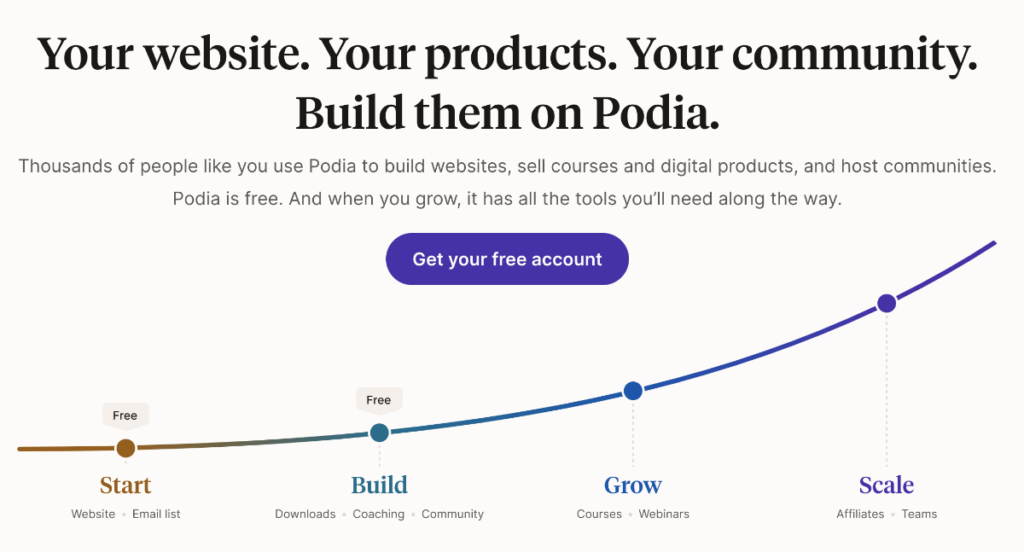 After digging through my options, and extensively testing several, I chose Podia for a number of reasons:
For all that Podia offers, their pricing is very wallet-friendly, especially now that they have added the completely free Podia plan with no time limit. You could, if you wanted, have your entire website, course delivery, and memberships, email lists, and digital products set up in one place, with no need for any other service.
Unlimited storage of videos, files, and assets. (This was a big deal for me. I have thousands of videos and digital assets across all of my courses.)
The ability to take and track payments and work with affiliates. Admittedly, the affiliate management in Podia is limited, but it works.
Simple ways to design and create sales pages and even a branded website.
Basic email list-building and automations.
Ease of use.
Passionate, engaged developers who are always adding new features and improving the functionality of the platform.
Podia also has some areas that are weaker than I would like:
The affiliate management and tracking is weak. It works, but needs to be made more robust.
Although Podia allows strong front-end product set-up and sales, it has no real option to create a proper sales funnel with upsells. The upsell feature is so basic, it is virtually useless. If funnel-building is your need, Podia is not the option for you. Try Clickfunnels or Kajabi.
The email list-building and management side of the service is decent but basic. Although it is more than adequate as a place to start, as soon as your list requirements increase, another service like Convertkit may be needed.
Every all-in-one service of this kind will have strengths and weaknesses, and the idea of a genuine, all-in-one solution is a great idea, but rarely possible for a growing business with diverse needs.
On a balance of cost and features, Podia has come closest for me as a long-term, workable and worthy solution. Other choices do exist that are stronger in many areas, but their prices become prohibitive because I produce so much content.
Sign up for a free Podia account here and see if it's a fit for you, you have nothing to lose: christiancreative.academy/go/podia.
Here are a few reasons to do this today…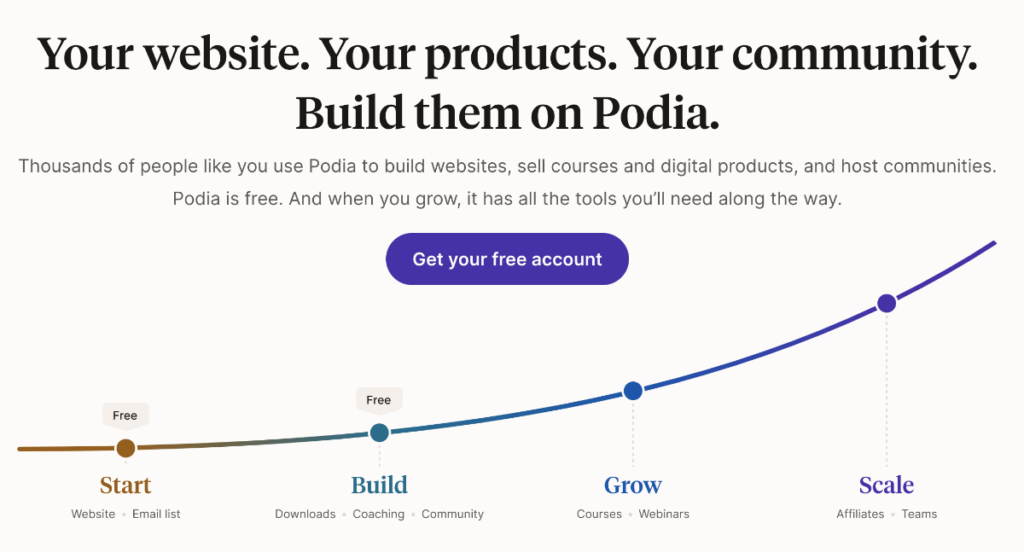 • Podia provides the set of tools creators need to start a business. Even the free plan has all you need to genuinely get started making money with digital products and online coaching on a world-class platform and with zero risk.
• Now is the best time to start online businesses. The economy looks shaky and layoffs are in the news; people are looking for ways to make extra money and market themselves, and the free plan gives you everything you need to start doing this without ever paying a cent.
• Creators need a platform that grows with them. The creator journey often progresses from audience → website → simple product → more complicated product. Podia was built with this journey in mind to give you access to the tools you need at each stage of your journey, starting with a free website.
• There hasn't been an easy, free way to build and sell products from your website quickly like this until now. A website is the most fundamental thing you need to have a presence on the internet, but a lot of website builders require knowledge of code, the addition of plugins and third-party tools, or are just plain expensive. Podia provides a website builder that gives most people what they need — for free.
• Transaction fees on all paid plans are not creator-friendly. Creators work hard to grow their businesses, and they shouldn't be penalized by having to share a percentage of their income as they grow. The creator-friendly way to run a company is to have a free plan with transaction fees and then remove those fees as the creator grows. This aligns the company's incentives with the creator's incentives. That's precisely how the new free Podia plan works.
• Many platforms serve platforms, not creators.
There's an ongoing trend of the major platforms making moves that harm creators — whether that's reducing monetization, banning first and asking questions later, taking unfair percentages, or reducing creator reach. Creators need a home on the internet that they own so they have a central place to send fans. Be careful what platform you choose to build on as the goal posts can change. Podia have consistently proven their commitment to their customers – that's you, the creator!
• Current community platforms put creators at the mercy of the platform. Creators need to be able to offer free and paid tiers, encourage conversations between their community members, and deliver their products to members from within the community. Most importantly, they want to be able to connect directly with their audience without being at the mercy of changing algorithms or third-party rules. Perhaps the biggest plus point for the Podia community builder is that you can have everything in one place, not annoy your customers with several logins they have to remember. Podia keeps everything under one roof!